Columbus, OH – Students at The Ohio State University along with FLOC organizers are demanding that two Reynolds-American Inc. directors, Holly Koeppel and Lionel Nowell, be removed from the Dean's Advisory Council at the Fisher College of Business.
FLOC organizers, along with members of the FLOC Homies Union, joined the students representatives of the on-campus chapters of the OSU Student Farmworkers' Alliance, United Students Against Sweatshops, and Real Food OSU.
The students have reached out to Dean Anil Makhija several times without success. Dean Makhija was not present at the time that students gathered at his office, and his assistant said he could not be reached. The Dean chooses who sits on his advisory board.
The students delivered a letter to his secretary citing concerns about human rights violations. As they exited Fisher Hall they began chanting "We will come back!" through the halls of the building.
Hundreds of leaflets were handed to students, faculty, and other staff with a summary of FLOC's efforts against the abuses Reynolds-American Inc. has been fostering in the tobacco harvesting industry.
Outside of the building, as hundreds of students walked by, FLOC organizers held a banner that urged Dean Makhija to remove Koeppel and Nowell. A chant started among the students, "Makhija, shame on you. Farm workers are people too!"
Student leader Graham Spangler said of the event, "These students are working to change their campus food system by shifting the university's food budget to food that is just and sustainable… Students involved in the campaign are calling on Ohio State to reflect the values its constituents hold dearly: respect, dignity, and justice."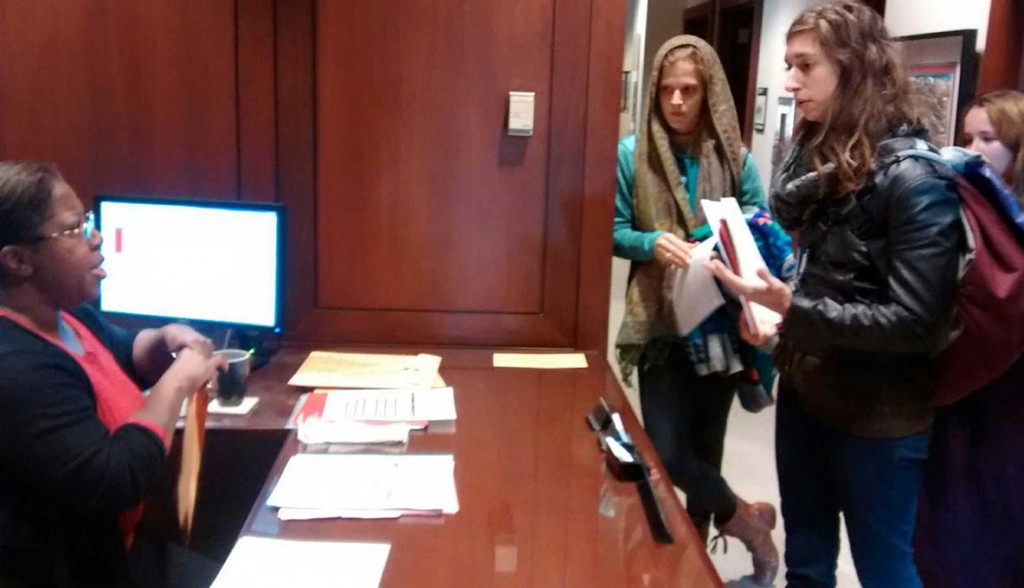 Lainie Rani delivering the letter, along with Graham Spangler at Fisher College of Business.