July 3-5 2019
Presidente Velasquez and Vice Presidente Justin Flores are in Kampala Uganda. Presidente is a co-chair of a meeting with the International Labor Organization. FLOC is joining other farm workers and unions and organizations to fight global exploitation in the tobacco sector. Here are a few snippets lifted out of Presidente's remarks earlier today:
"We should see all fundamental rights as a whole and particularly freedom of association as the core right to be implemented, which enables all others.
Unfortunately, today in the US and around the world, agricultural workers are excluded from national laws guaranteeing these rights or otherwise unable to enforce existing laws because of strong barriers.
When workers and growers can negotiate fair standards of pricing, wages, and work conditions, many of the issues we see as problematic in the tobacco supply chains will be resolved.
Growers want to pay good wages and provide safe workplaces and workers want to earn enough to feed, clothe, and educate their children. For too long the pricing and format of tobacco purchasing has pitted workers and growers against each other and improvement in workers' rights is perceived as a loss for growers and improved financial standing of growers as a loss for workers.
We must reject this idea. Workers with the right to organize can then be a true partner in social dialogue and collaborate with employer associations and tobacco purchasers to pursue goals of improving decent work deficits as well as improving crop yield and other financial goals throughout the supply chain."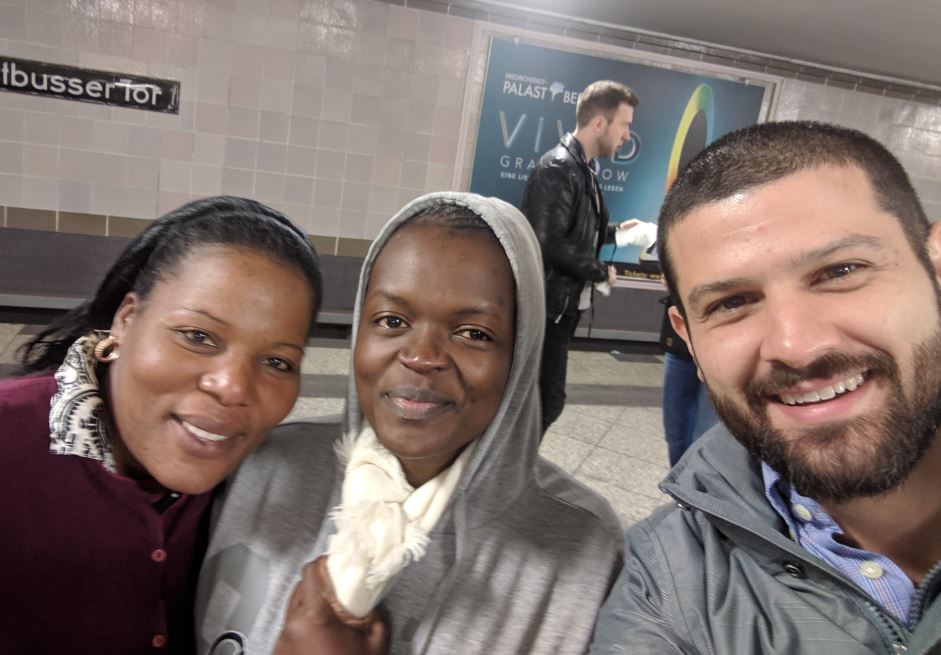 En Espanol:
El presidente y vicepresidente de FLOC en Kampala, Uganda, luchan contra la explotación de los trabajadores agrícolas en el sector mundial del tabaco
El Presidente Velásquez y el Vicepresidente Justin Flores están en Kampala Uganda-Africa. Presidente es un co-Presidente de una reunión con la organización internacional del trabajo. FlOC se une a otros trabajadores agrícolas y sindicatos y organizaciones para luchar contra la explotación global en el sector del tabaco. Aquí hay algunos fragmentos levantados de los comentarios del presidente temprano el Miercoles:
"debemos ver todos los derechos fundamentales en su conjunto y en particular la libertad de asociación como el derecho fundamental a ser implementado, lo que permite a todos los demás.
Por desgracia, hoy en los ee. uu. Y en todo el mundo, los trabajadores agrícolas son excluidos de las leyes nacionales que garantizan estos derechos o de otra manera incapaz de hacer cumplir las leyes existentes debido a fuertes barreras.
Cuando los trabajadores y los cultivadores pueden negociar estándares justos de precios, salarios y condiciones de trabajo, muchos de los problemas que vemos como problemático en las cadenas de suministro de tabaco se resolverán.
Los cultivadores quieren pagar buenos salarios y proporcionar lugares de trabajo seguros y los trabajadores quieren ganar lo suficiente para alimentar, vestir y educar a sus hijos. Durante demasiado tiempo, el precio y el formato de la compra de tabaco ha enfrentado a los trabajadores y los cultivadores contra el otro y la mejora en los derechos de los trabajadores se percibe como una pérdida para los cultivadores y la mejora de la posición financiera de los cultivadores como pérdida para los trabajadores.
Tenemos que rechazar esta idea. Los trabajadores con el derecho a organizar pueden entonces ser un verdadero socio en el diálogo social y colaborar con las asociaciones patronales y los compradores de tabaco para perseguir objetivos de mejora de los déficits de trabajo decentes, así como mejorar el rendimiento de los cultivos y otros objetivos financieros en toda la cadena de suministro."